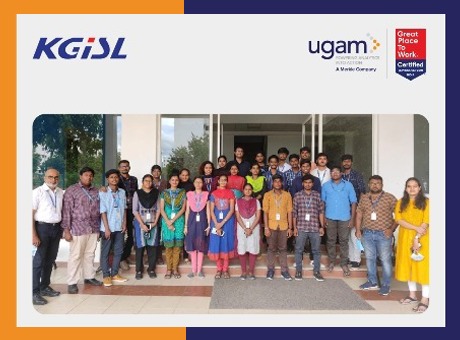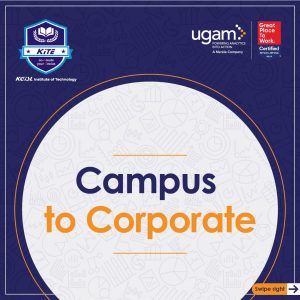 KGiSL Institute of Technology is proud to partner with Ugam, a Merkle company, to accelerate the 'Campus to Corporate' journey. Meet a few of our students who will be interning at Ugam under the mentorship of experienced Ugamites to solve business problems and gain first-hand industry experience.
Ugam, is a leading analytics and technology services company, and part of Merkle. With 3300+ people spread across locations worldwide, their services span across industries like Retail & Consumer Brands, High Tech, BFSI, Distribution, and Market Research & Consulting. Over the past 21 years, Ugam has been recognized by several firms including Forrester and Gartner, named the No.1 data science company in India by Analytics Insight, and certified as a Great Place to Work®.
Apart from KGiSL Institute of Technology in Coimbatore, SIES College of Management Studies, Mumbai will also be participating in this program. Ugam will offer students from these colleges an industry-focused market & consumer insights course, followed by hands-on internship experience.
This partnership is aimed at getting students work-ready by bridging the gap between campus curriculum and industry needs. Students specializing in Technology and Engineering will be coached on Project Management and Online Programming & Quality Assurance to drive better consumer insights. They will be mentored by experienced Ugamites to solve business problems and gain first-hand industry experience. Top performing students will also be given the opportunity to join Ugam as a Management Trainee.
Dr. Ashok Bakthavathsalam, Founder and Managing Director, KGiSL Group, said, "We are privileged, excited and grateful for our long-standing partnership with Ugam and their investment in our students. Understanding of market & consumer insights can help our students stand out in the job market. I'm glad we were able to provide this opportunity to our students."
Sunil Mirani, Co-Founder and CEO of Ugam, said, "Ugam is committed to investing in aspiring analysts, data scientists and programmers. Our expertise in connecting behavioural data, transactional data and open data, offers students a unique learning experience. The guidance they receive from our seasoned mentors, and experience working within multidisciplinary teams will be a great foundation for their careers. They will gain experience in solving real-life business problems, adopting best practices, and working with cutting-edge tools and technologies."
Recently, Ugam announced plans to hire over 1000 fresh graduates from top colleges in India. Towards this, Ugam is visiting 75+ leading higher education institutes to interview final year students specializing in Engineering, Statistics, Economics, and Management studies.