Mechanical Engineering
Mechanical engineers do it with less energy and greater efficiency.
Mechanical Engineering blends core concepts of science and technology, including mechanics, kinematics, thermodynamics, materials science, structural analysis, and electricity to analyze and design complex mechanical systems in a variety of industries. Using tools like computer-aided design (CAD) and product lifecycle management, Mechanical Engineers convert a vague idea in an entrepreneur's head into a massive manufacturing plant or a small piece of equipment which can be crowd funded on Kickstarter. Mechanical Engineers can be found designing complicated machinery, heating & cooling systems, transport systems, aircraft, watercraft. Mechanical engineers contribute in many unexpected areas of industry including, among others, the field of robotics and design of life-saving medical devices.
The Department of Mechanical Engineering has been part of KGiSL Institute of Technology since its founding in 2008. It has a dynamic team of well-qualified faculty members with wide industry experience. The faculty believes that an education in this broad discipline better equips budding engineers in shaping the real world using the principles of mechanics, physics, and materials science.
Courses Offered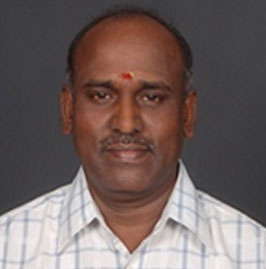 Mr. C. Narayanaswamy
Professor & Head of the Department
Mr. C. Narayanaswamy, has received his B.E in Mechanical Engineering from Bharathiyar University, Coimbatore in 1987 and M.E in Industrial Engineering from Bharathiyar University, Coimbatore in 1991. He is pursuing PhD in Mechanical Engineering under Anna University, Chennai. He has about 25 years of Industrial experience and 11 years of teaching experience and his areas of interest include Strength of Materials, Design of Machine Elements, Design of Transmission Systems, Principles of Management, Engineering Economics and Finance and Total Quality Management. He has authored 4 research papers in International Journals and has published 1 Paper in international conference and 3 papers in national conference.